Danielle Todd (Owner/Head Trainer)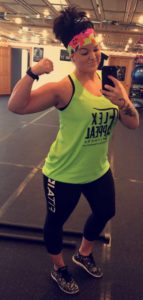 About Danielle
Danielle was born and raised in Galesville, WI. As a child she loved camping, sports and being outdoors. After graduating high school in 2007, she went on to Cosmetology School at The Salon Professional Academy in Onalaska, WI and worked as a hair stylist for about 2 years.
She then went on to work for her aunt doing event coordinating, marketing and more at her two businesses, Severson & Associates and Champions Riverside Resort in Galesville. In November of 2011, while planning the grand opening of Champions Riverside Resort, Danielle booked country musician, Jared Blake, to perform at the opening. Blake was a recent vote-off from the hit television show, The Voice on NBC. The following summer, Danielle booked Jared Blake for two more shows in the area, and was offered a job by the Jared Blake Music team to work with them in Nashville, TN.
In October of 2012, Danielle moved to Nashville, TN and worked as an events coordinator, marketing assistant and eventually, an on-the-road tour manager for Jared Blake and his band. Then, in February of 2015, Danielle found herself with another opportunity in sports marketing and moved to Livingston, TX (just an hour north of Houston), to do sports marketing and management for a Houston-based MMA fighter. While in Texas, Danielle was involved in opening Livingston's very first MMA gym. This is where her love for fitness began. The group she was involved with in Texas was so inspiring and uplifting, that when she moved back home to Wisconsin in July of 2015, she knew she wanted to recreate that same atmosphere here in Galesville.
Danielle officially opened the doors to Flex Appeal Fitness on August 3, 2015.
Danielle now lives just down the street from the gym with her husband, Dave, daughter Harper and two dogs, Gizmo and Jagger. You'll likely see all three of the Todd "kids" around the gym at some point! 😉
Outside of owning the gym, she also works full time as a Social Media Web/Design Manager and Event Coordinator for Severson & Associates. She helps her team to manage multiple camping industry related associations, as well as coordinate an annual nation-wide camping show held in Branson, MO!
Danielle's Goal As Your Trainer
My goal as your trainer is to help you set attainable goals, create a plan to help you along in the process and then help you achieve those goals and even surpass them. I want to teach my clients how to enjoy their life while staying healthy. There's a balance of having fun but still being able to reach your goal, I want to help you find that balance! My goal as the owner of Flex Appeal Fitness is to always provide a safe, uplifting and fun atmosphere for each of our clients to flourish, learn and improve their life! 
Danielle's Education & Certifications
Certified Fitness Trainer (CFT) Diploma from International Sports Sciences Academy (ISSA)

Adult/Child CPR and AED Trained from ConDu CPR (Winona, MN)

Certificate in Sports Nutrition from Shaw Academy Online